Product Line
PEGATEC cutting wheels with the perfect cutting result.
There are 4 product lines with different performance and feature. Respective direct at customer group、type of drive tools and processing task.
High-performance And
Multipurpose.

■ Multipurpose cutting

■ Superior durability

General purpose

■ Common processing and hand finishing

■ Sharp、Easy

High-performance

■ Widely used in industrial
processing

■ Sharp、Durable

Low-cost type

■ For common processing

■ Durable, Low cost
Each series with the differentiation of high cost and performance, which can meet the processing task and purchase cost of different worldwide industries completely. And certainly you will find the best cutting wheels for different appliance.
P 80 41 115 1 SS

1 2 3 4 5 6

(Brand short name) SPC= SCISSORSHAND

P= PEGATEC

S = SKILFUL

Running speed

80=80M/S

70=70M/S

41=Flat cutting wheels

27=Grinding wheels

42=Depressed centre cutting wheel

Diameter

115=4.5"

Thickness

1 = 1,0mm

-

1,2mm

SS=Stainless Steel

S=Concrete、Stone

M=Steel

A=Aluminum、Copper product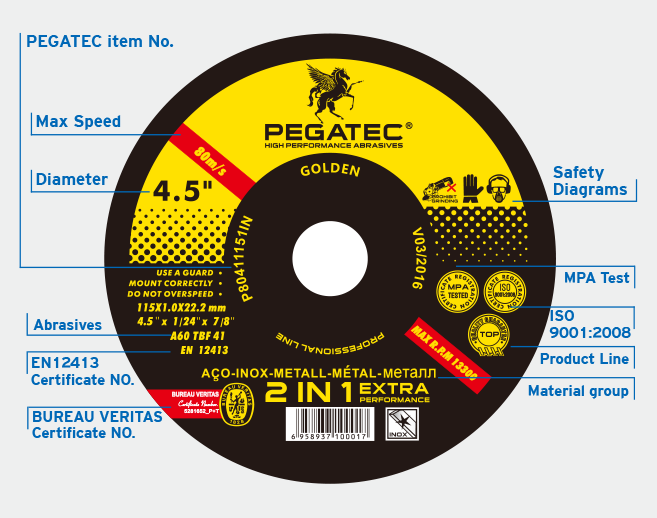 Identification of certificate

Abrasives
A 60 T BF 41

1 2 3 4 5

A = Aluminum Oxide Z = Zirconia alumina

C = Silicon carbide ZA = Zirconia alumina & Aluminium Oxide

Grain Size of abrasives

Hardness Grade

According to the ascending order of the alphabet, A-Z from soft to

extremely hard.

Bond (Resin Bonded)

41=Flat cutting wheels

27=Grinding wheels

42=Depressed centre cutting wheel
Color Code System
Color code for various work-piece (identify the applicable to the work-piece, just look at the color.)
Material group

PEGATEC Series

Material group

SKILFUL Series

Material group

SCISSORSHAND
Series

STEEL

STEEL

STEEL

STAINLESS STEEL

CONCRETE & STONE

CAST IRON

ALUMINIUM

STAINLESS STEEL

STAINLESS STEEL

Material group

4 IN 1

CONCRETE
& STONE

CONCRETE
& STONE

STEEL

STAINLESS STEEL

CAST IRON

ALUMINIUM

CAST IRON

CAST IRON

ALUMINIUM

ALUMINIUM